<![CDATA[Property Network Newsletter Archive Feed]]>

In this issue:
Market Update
Profile For Sale Property
Recent Sales
Our Community Work


As the Principal of Property network Salisbury, Jarrod is committed to providing his clients with highly effective marketing strategies and expert advice. With over 20 years in the real estate industry, Jarrod clients have benefited greatly from his expertise. His personal approach to each and every negotiation has resulted in significant repeat and referral business over the years.
A well established career and outstanding reputation as an expert in his field ensure that when you entrust your property to Jarrod, you, too, can expect the best.
Market Update

Brisbane house prices have fallen for the third time this year, dashing hopes that 2017 would be a stellar year for property. Experts say until there's improvements in wages and consumer confidence, Brisbane will likely stay in a holding pattern of minimal growth.

Greater Brisbane's lacklustre performance, as revealed in the latest Domain Group State of the Market Report, shows median house prices have fallen by 0.2 per cent across the five LGAs, which include Brisbane, Ipswich, Redland, Moreton Bay and Logan.

Not surprisingly, unit prices have also fallen, having dropped by 3.5 per cent to $376,685. Moreover, Brisbane LGA house prices also fell – for the first time in 18 months – dropping by 1.5 per cent over the September quarter to a median of $650,000.

It's a similar story across most of the country, where prices are down nationally by 0.5 per cent. Sydney's runaway property prices have finally stumbled, with both house and unit prices falling last quarter, marking what experts say is the end of a five-year property boom.

While Brisbane's median house price is still up by 1.7 per cent for the year, Domain Group economist Andrew Wilson says the results will come as a disappointment to those who hoped the momentum of late-2016 would continue.

"There were expectations Brisbane's housing market would rise this year after 2016 finished quite well but that hasn't happened – and any hopes of that happening leading up to the end of the year are quickly diminishing," Dr Wilson says. "There's no doubt this year has been a flat one for Brisbane and it will likely be flat for the whole year I'd say." While the outlook for Brisbane appears grim, experts say the local property market is not falling, but "on hold". Brisbane house prices are in a 'holding pattern', according to experts. "There's no urgency in the market," says Kerrianne Meulman, managing director of Urban Economics. "People in Brisbane don't have that pressure to buy because things aren't accelerating. We've still got low interest rates and those underlying stories – like non-existent real wages growth and modest growth in unemployment – mean we're watching this space rather than rushing out buying houses.

"If house prices keep declining, it won't be by much or it won't be for long. I don't expect that to be a long-term prevailing situation at all."

Simon Pressley, managing director of Propertyology, says a distinct lack of confidence in Brisbane's economy is what's holding property prices back.

"I feel that whether we're talking houses or units, metro Brisbane or Greater Brisbane, it's been pretty much the same story for five years – and that's really small amounts of growth," Mr Pressley says.

"Demand for property is closely linked to employment and affordability. We've got an affordable market. But if we don't have confidence in our jobs, in our future, in the community around us, the housing market suffers."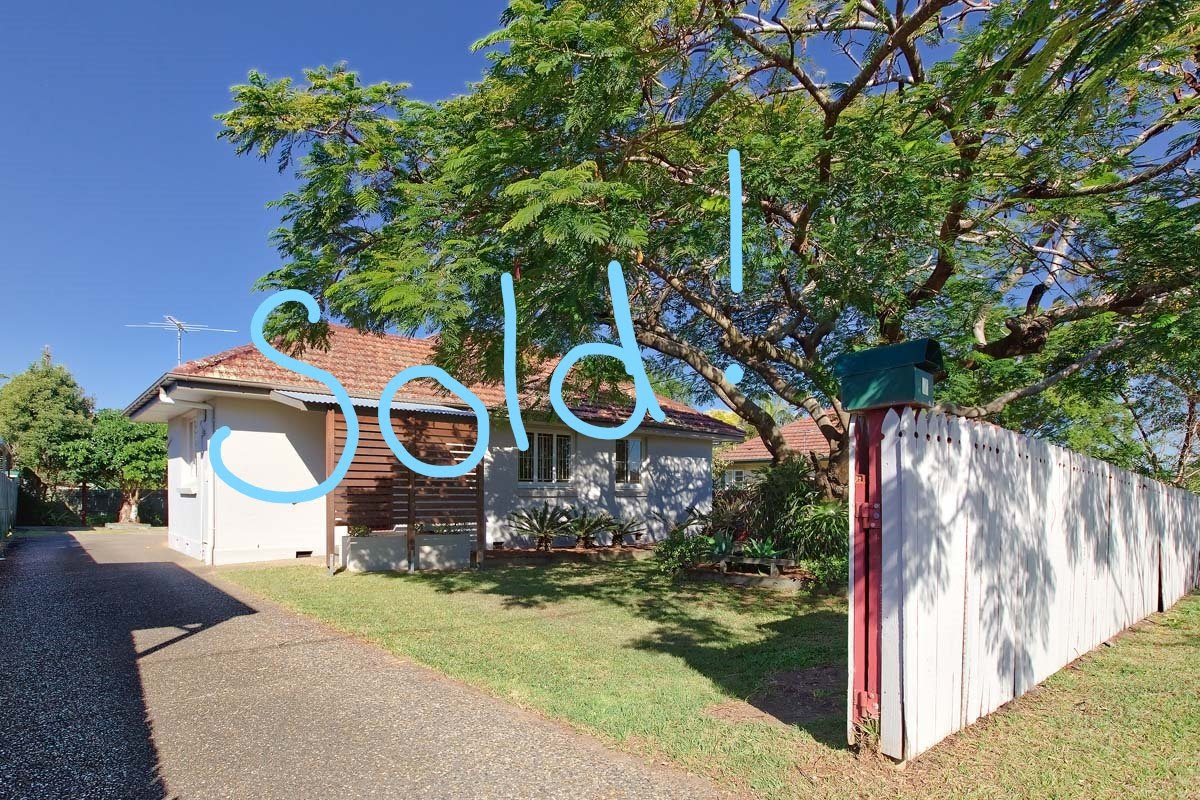 7 Cale St Camp Hill Offers over $600,000
CLASSIC SOLID BRICK...

This solid classic brick family home proudly sits behind the rendered and has that classic 1950's look. With all the traditional features of a warm and welcoming post war home, you will love the feel of this place. Some clever imagination and design I am sure the right buyer could turn this into something very special.

Complete with white casement windows, stunning original ceilings and ornate cornice throughout. Rich timber hardwood floors flow through the large lounge room to the update kitchen.

Three good sized bedrooms, two with generous built in wardrobes are positioned at the end of the hall, with an updated family bathroom.

There is a 2 car garage + 2 car carport behind the house, so plenty of room for kids to play under cover or loads of storage for tradies with tools, trailers and utes..
Some of the outstanding features include:
- 617 square meters of land
- 3 bedrooms
- 1 bathroom
- Air conditioning to living room
- Side access to the double lock up garage and carport
- Plenty of secure storage
- Low maintenance gardens

This secure and private home is located in a highly sought after street in Mt Gravatt East surrounded by new homes and renovations. Offering scope for the budding renovator to add value in the future, this is a great opportunity to enter the market or for a growing family in a high growth suburb.

Local strip shops are just around the corner and you have easy access to the gateway motorway. If you are looking to be nearby schools, you have a great range of private and primary both junior and senior.
Recent Sales in Salisbury


| | |
| --- | --- |
| 85 Cripps St | $601,000 |
| 128 Blackwood RD | $950,000 |
| 2 Caedmon St | $588,000 |
| 15 Angela St | $500,000 |
| 212 Douglas Rd | $587,000 |
| 28 Golda Ave | $530,000 |



Proud Sponsors of Southside Eagles Football Club
FQPL 2018

It may seem incredibly overwhelming when you start the sale process; what comes first - advertising, agent, renovations? We, at Property Network, coach you through the whole process and, to help you start thinking about it, we've put together a list of top things to help prepare your home for sale.
Click on the link below.
Copyright © 2017, Property Network Salisbury, All rights reserved.
Our mailing address is:
PO Box 2003, Salisbury, Qld, 4107, Ph: 07 3277 3122
Want to change how you receive these emails?
You can update your preferences or unsubscribe from this list